The Chester County Fund for Women and Girls hosted a discussion entitled, "Yes, All Women!" on how women can learn from their own histories and create their collective future on Thursday, March 2nd. Around sixty women, spanning a variety of generations, backgrounds, and experiences, came together for this thought-provoking conversation held at West Chester University.
Educational Consultant Juliana Mosley, WCU student Lilah Saber and former PA State Representative, Barbara McIlvaine Smith co-led the evening's activities, which included an overview of the generations and the evolution of the women's movement through history and break-out discussions that surfaced the variety of perspectives of feminism. Many expressed that the fight for women's rights needs to become more inclusive. Saber said, "I am a middle-class Millennial Middle Eastern woman, and I can't separate those."
Another theme that emerged was the need to leverage commonalities rather than stand divided because of differences. An attendee, Susan Fiorentino, of West Chester University and the Chester County Women's Commission, said, "How empowering it felt to share our experiences. Although there was a diversity of opinion about the role of feminism in the lives of our group members, there were also inter-generational similarities that we reflected on. When it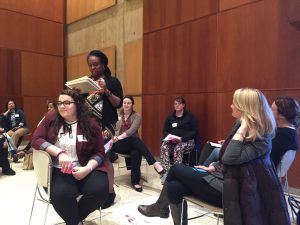 was over, I think it's fair to say that we all wanted the dialogue to continue."
"Tonight reflects the heart of our organization as women of all ages, races, and backgrounds, come together toward progress," said Michelle Legaspi Sanchez, CCFWG's Executive Director.
CCFWG uniquely leads and unites the community on the issues facing women and girls by providing actionable information such as the 2016 Blueprint Report, bringing together the community's diverse voices and interests for the continued advancement of women, and providing grants to non-profits addressing the needs of women and girls.